If you want to enjoy the latest racing games to the full, you know a controller just doesn't cut it. You'll need one of the best PS4 steering wheels to immerse yourself in the driving experience as much as possible. That's why we've taken the time to test and review the latest steering wheel options available.
Although a pricey accessory, there's nothing quite like it in gaming, having such precision and stimulating feedback as you navigate the race track shaving precious lap time. The best racing wheels for the Playstation 4 console, are designed to keep you teetering on the edge but still make it feel like you have what it takes to beat your rivals, and go even faster than you ever have before!
Click here for our review of the best PS5 steering wheels.
Here then is our roundup and buying guide to help you choose your next PS4 steering wheel in 2022.
Best PS4 Steering Wheels
Fanatec CSL Elite Bundle Set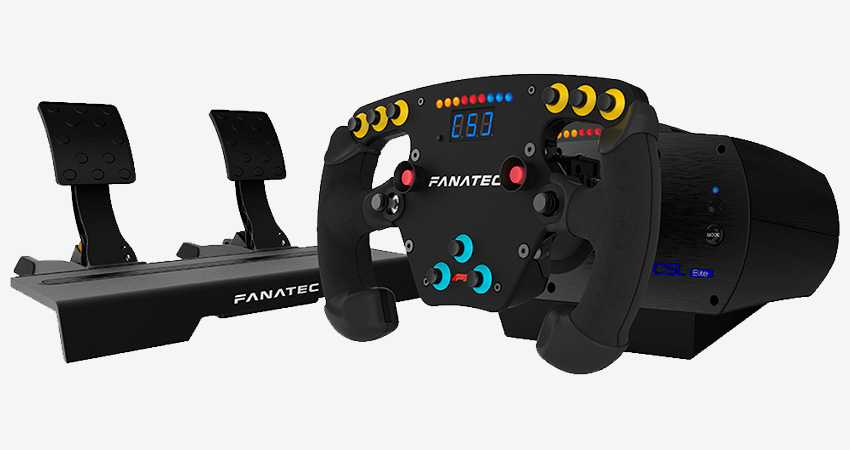 Fanatec: €699.95 | Amazon: £1,089.00
Used by professional Esports drivers worldwide and officially licensed, the Fanatec CSL Elite bundle is our number-one choice and the best racing wheel for the PS4. If you're looking for a high-performance racing wheel, this is as pure as it gets! Offering refined, precise racing ergonomics with stimulating force feedback through a brushless motor, you'll feel the rubber fighting the laws of physics. With a premium price tag, this wheel certainly is not for the faint-hearted.
Rotation: 1080° | Pedals: 2 | Buttons: 11 | Adjustable Pedals: Yes | Compatibility: PS4, PC
Pros
Incredible Stimulating Force Feedback
Used By Professional F1 Esports Drivers
Highly Customisable
Single Belt Drive, Ultra-Low Lag
Adjustable Aluminium Pedals
Integrated Rev Light Bar
Cons
Logitech Wheel G29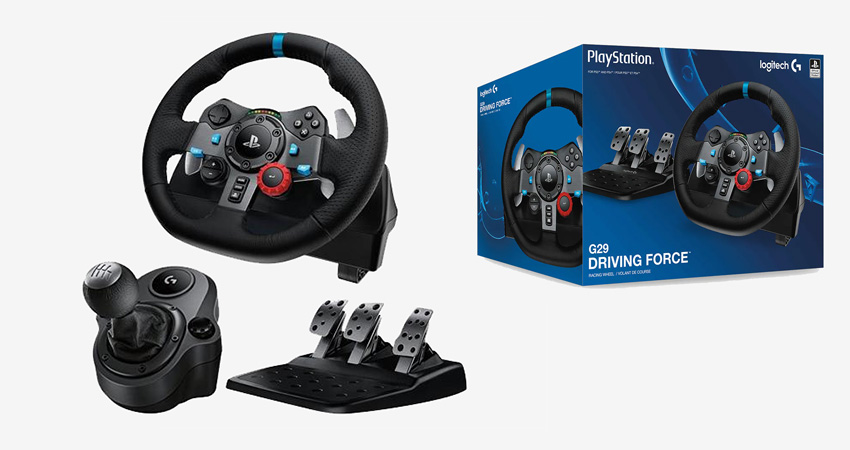 Amazon: £269.00
Maybe the best racing wheel for beginners, the Logitech G29 for the PS4, is perfect for first-time sim racers, thanks to its premium performance at a bargain price point. Based on its predecessor the highly regarded G27, this wheel gives you a great driving experience on the latest titles.
Rotation: 900° | Pedals: 3 | Buttons: 16 | Adjustable Pedals: No | Compatibility: PS4, PS3, PC
Pros
High-Quality Force Feedback
Hand Stitched Leather Wheel
Three Pedals
Bargain Price
Optional Shifter Attachments
Cons
Entry Level
Not As Luxurious As Fanatec Model
HORI Racing Wheel Apex (PS4, PS3, PC)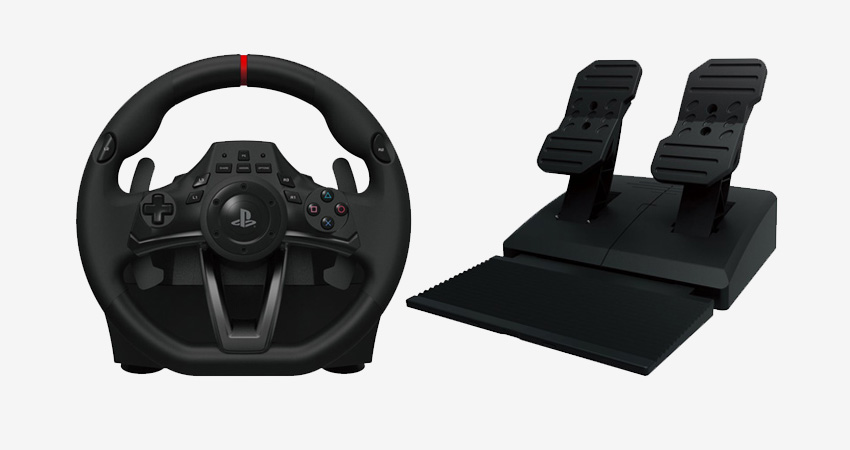 Amazon: £89.99
HORI's latest wheel bundle is a great entry-level option at an aggressive price point. With an adjustable 270-degree turn-ratio and programmable buttons, this wheel is perfect for first-time sim racers and beginners looking to experiment with sim racing. With sturdy clamps and steel parts, you can clamp this wheel down easily on your table or computer desk.
Rotation: 270° | Pedals: 2 | Buttons: Programmable | Adjustable Pedals: No | Compatibility: PS4, PS3, PC
Pros
Officially Licensed by Sony
Full-Size Racing Wheels & Pedals
Ergonomic Design Optimized for Authentic Racing
Clamp/Suction Desk-Attachment
Programmable Buttons
Cons
Entry Level
Pedals Not Adjustable
Limited Feedback
Thrustmaster T300RS for PS4/PS3 & PC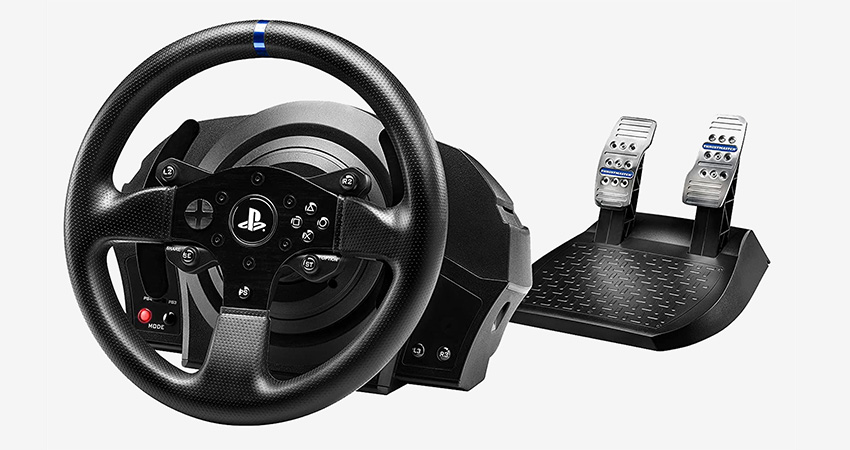 The T300RS force feedback wheel allows gamers to really take the plunge into the world of racing, and hone their driving skills for better performance. In order to achieve this, Thrustmaster has taken great care to create the perfect solution for any gamer trying to go to the next level in their racing games. The T300RS provides an unrivaled immersion, for a pure connection with the road. A genuine brushless servo industrial Force Feedback motor (with frictionless action), combined with a new 1080-degree dual-belt system delivers super-smooth and quiet Force Feedback with incredibly responsive, realistic force effects to really feel the road.
Pros
1080 Degree Force Feedback
Detachable GT Racing Wheel
Official Race Wheel for PS3/PS4
Dual-Belt Brushless Motor
Optional Attachments Available
Cons
Its expensive for entry level