Want to take your sim racing to the next level? Using the table or computer desk is okay but if you want to get serious, get yourself a racing wheel stand setup. Having an adjustable stand to house your wheel and pedals will make you more comfortable and improve your sim racing experience.
We've taken the time to compare the best steering wheel stand setups on a range of budgets, so you have an easy fold-away solution for your sim racing.
Best Sim Racing Steering Wheel Stand
Next Level Racing Foldable Wheel Stand (NLR-S002)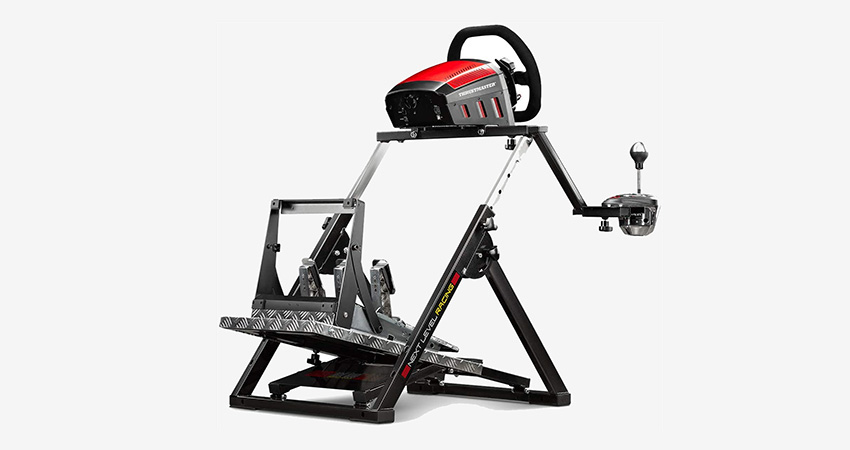 Amazon: £169.28
This top-end wheel stand from Next Level Racing is a rock-solid solution to have your wheel, pedals and shifter all in a realistic racing position. The stand can be folded down in less than five seconds to be packed away and be stored, great for the casual sim racer. There's nothing quite like immersing yourself in a good racing game, and this highly adjustable wheel stand can adjust to fit 4ft children all the way to 7ft adults! Compatible with all major wheels around, including Logitech, Fanatac, and Thrustmaster, this stand is our favorite and best racing wheel stand for beginners and seasoned sim racers.
Pros
Easy To Setup, Almost Fully Assembled
Highly Adjustable Wheel & Pedal Positions
Gear Shift Stand Interchangeable Between Left & Right
Can Be Folded & Stored In Less Than 5 Seconds
Premium Build Quality, Powder Coated Steel
Compatible With Most Sim Devices Available
Cons
Next Level Racing Lite Wheel Stand (NLR-S007)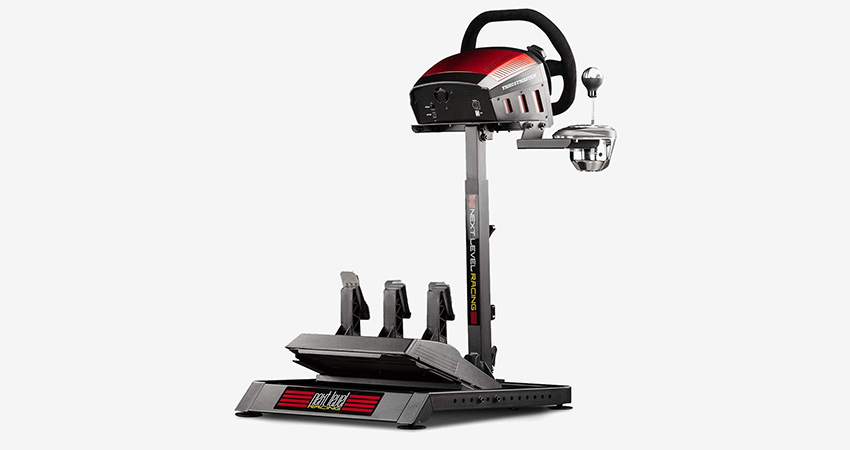 Amazon: £109.98
Another solid contender and what we think is great value for money is the Lite version of the Next Level Racing wheel and pedal stand. Built using the same premium materials and adjustable for all major wheels, pedals, and gear shifters, this is a great racing wheel stand for first-time sim gamers.
Pros
Solid Stand For Your Wheel, Pedals & Shifter
Folds Away In Less Than 10 Seconds
Gear Shift Stand Interchangeable Between Left & Right
High Build Quality, Powder Coated Steel
Compatible & Predrilled For All Major Brands
Cons
Less Adjustment & Not As Luxurious As Pro Stand
Budget Steering Wheel Stand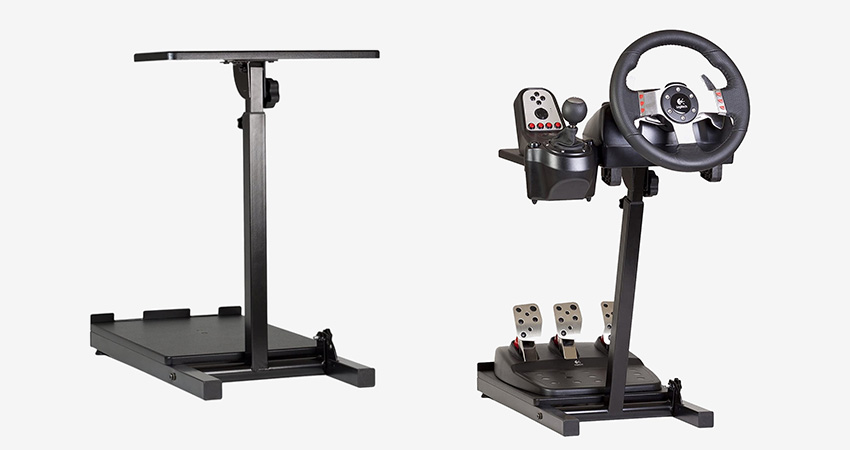 Amazon: £49.99
As cheap as it gets without building your own makeshift wheel stand, this budget option is perfect for beginners and those looking to get into sim racing. If you need a platform for your wheel and pedal setup without breaking the bank, then this is the best choice and therefore, our best budget racing wheel stand.
Pros
Very Affordable
Height & Tilt Adjustable
Angle Adjustable
Foldable
Fits Most Logitech, Xbox, Madcatz & Thrustmaster
Cons
Budget Entry, Standard Build Materials
Limited Adjustment
A Little Flimsy
Only Fits Entry Level Wheels
Wheel Stand Buying Guide & Frequently Asked Questions
Before you buy, you need to consider what type of setup you want.If you're more of a casual sim racer and just want a comfy ergonomic gaming chair with a wheel stand, then there are plenty of affordable options which can be folded away and easily stored. Much better than the computer desk!
Serious sim racers and those who have the space for a permanent setup, have the option of a full racing cockpit rig, which can accommodate the wheel, foot pedals, shifter, screens, and other sim accessories.
So with that in mind, here are the three different types of racing simulator seat setups and who should buy them:
Racing Style Seats + Wheel Stand
These gaming chairs are designed after classic racing car seats and come with wheel and pedal stands. The budget models usually have a collapsible design which makes them ideal for the casual racer. With affordable prices and a variety of options available, these are a great step up for beginners instead of using the coffee table or computer desk!
Buyers Checklist
An Ergonomic Seat
High Weight Capacity
Fully Adjustable (Height, Tilt, Armrests, etc)
Strong Build, High-Quality Materials
Stylish Sleek Design
Comfortable For Long Periods of Use
Full Racing Cockpits or Rigs
A cockpit is a permanent setup and consists of a metal frame on which you can mount a seat, wheel, shifter, and other racing equipment. Used by professionals and serious sim racers, these complete set-ups fully mimic your car interior. Popular cockpits come with the seat included, however other options are more customizable and require you to purchase seats and accessories separately. With the premium build quality and engineered for expansion, these racing cockpits are not cheap and are targeted towards professional racers.
Buyers Checklist
Multi-Bar Wheel Support
Expansion for Monitors & Other Accessories
Robust Build Quality
Highly Adjustable
Affordable
Sleek Realistic Cockpit Design
Motion Cockpits
Now, this is where it gets interesting. For those without a budget and who want the best possible sim racing experience, cockpits can be bought with motion-controlled systems. This means the seat literally moves based on what's happening in-game, taking the casual experience up to the extreme and making it much more immersive. It blurs the lines between reality and the game so you'll feel as if you're in a real car!
Buyers Checklist
Full Motion Including Tilt, Turn & Movement
Integrated Audio Surround Sound
All Features In A Regular Racing Cockpit
Hopefully, that should give you much better insight into the options available for us sim racers and help you choose your setup! The ultimate guide to the best racing simulator seats & cockpits in 2022.