Want to take your sim racing experience up a level? Using the computer desk or coffee table is okay but if you want to get serious, you know you need a proper cockpit setup. The best steering wheels kick out some serious force feedback and having a comfortable stable platform for you to race will help tenfold.
We've taken the time to compare the best racing simulator seats & cockpit setups on a range of budgets, so you can have a better driving experience and stop the back pain in those long endurance races!
Best Sim Racing Seats & Cockpits
Fanatec RennSport Cockpit V2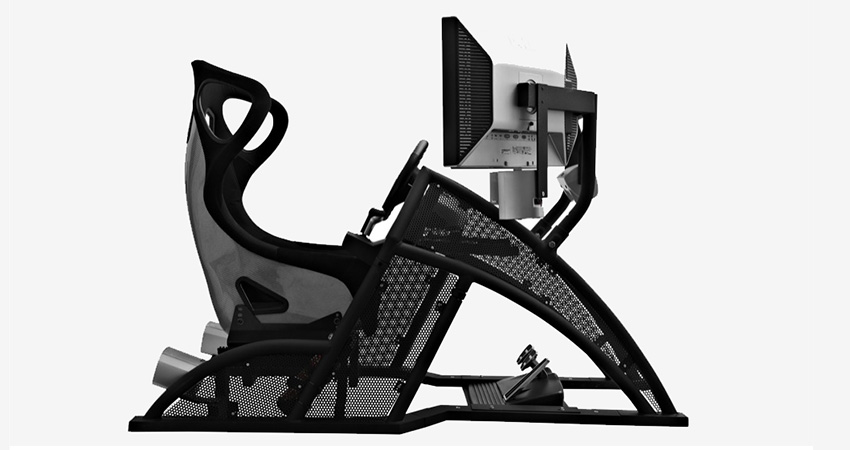 Fanatec: €990.00
There's nothing quite like immersing yourself in a good racing game, and the new version of the Fanatec RennSport Cockpit significantly enhances your racing experience. With its unique aluminum tube roll cage construction and powder-coated finish, it gives off the feeling you're sitting inside a real racing car! Compatible with the majority of sim equipment available and with a plethora of extension accessories, such as monitor and speaker mounts, shifter holders, and seats, this Version 2 is future-proof. Engineered for easy use and durability, the RennSport cockpit is by far our favorite and best racing simulator cockpit.
Dimensions: 174x84x120cm (LxWxH) | Seat Plate Hole Pattern: 320x345mm and 320x440mm
Pros
Unique & Customizable
Extending Range of Accessories
Strong Aluminium Tube Construction
Easy To Assemble, Tools Included
Highly Adjustable for Best Position
Compatible With Most Sim Devices Available
Cons
Playseat Evolution – Alcantara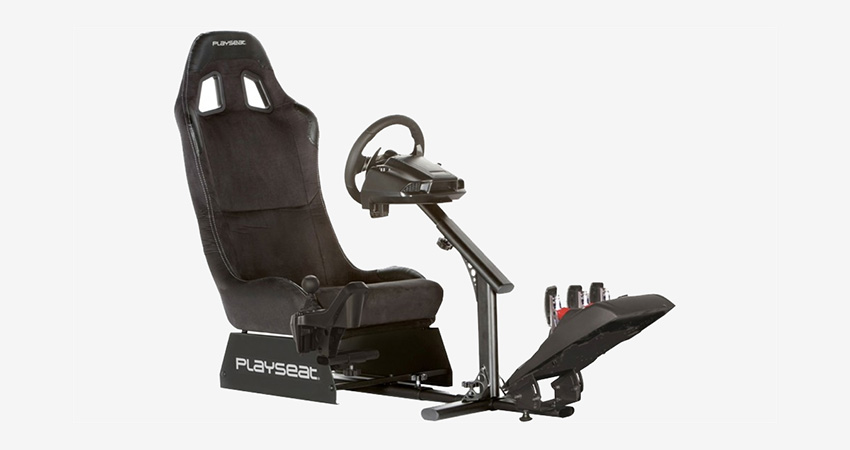 Amazon: £281.74
One of the most popular and biggest brands in the sim racing world, Playseat is known for producing high-quality products used even by real racing drivers. This Evolution seat is perfect for first-time buyers and amateur racing gamers looking for a good entry-level racing seat. A good all-around package and very affordable, it's why it gets our best-value racing simulator seat. Boasting superior build quality and with a comfortable durable seat, you can definitely tell Playseat consulted professional racing drivers when designing this seat package.
The only major downside to this chair is that it doesn't come with keyboard and shifter mounts, although at a budget price point, it's to be expected. For those who want to mount screens with this chair, you can always pair it with a Playseat TV Stand PRO.
Pros
Fully Adjustable Framework
Used By Professional Racing Drivers
Superior Build Quality, Stability & Comfort
Easy To Assemble, Tools Included
Patented Foldable Design
Compatible With All Sim Wheels & Pedal Sets
Cons
Entry Level
No Extension Mounts For Accessories
Playseat Challenge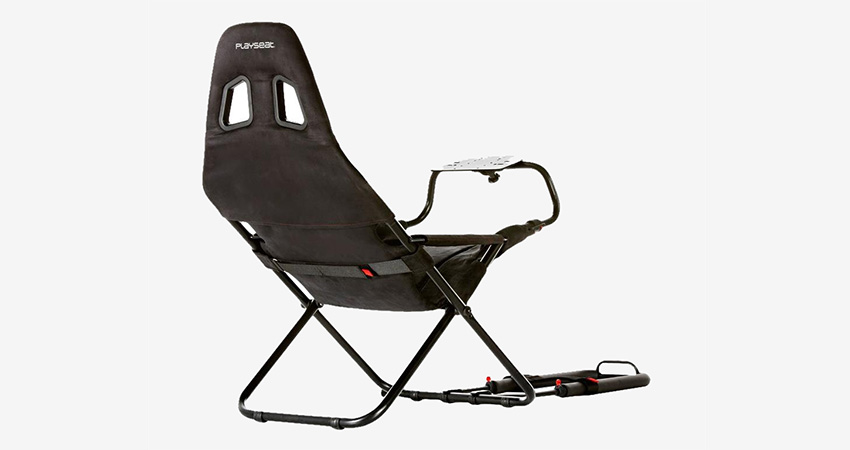 Amazon: £199.00
Although the most basic in this list, this 'Challenge' model by Playseat is perfect for beginners and casual sim racers. With its patented foldable design, this seat can be easily stored after use. With its great price tag, it's certainly our best budget racing simulator seat.Its lightweight construction and ergonomic adjustable design provide a great platform for your steering wheel and pedals, and it's compatible with all devices! Where this seat lacks compared with other options is its lack of extension accessories and standard build quality. However don't let that put you off, if you're a new sim racer, this is the perfect package for you!
Pros
Patented Collapsible Design
Ergonomic Adjustable Seat
Light & Comfortable
Compatible With All Sim Devices
Cons
Entry Level
Standard Build Quality
No Extension Mounts For Accessories
Sim Cockpit Buying Guide & Frequently Asked Questions
Before you buy, you need to consider what type of setup you want. If you're more of a casual sim racer and just want a comfy ergonomic gaming chair with a wheel stand, then there are plenty of affordable options which can be folded away and easily stored. Much better than the computer desk!
Serious sim racers and those who have the space for a permanent setup, have the option of a full racing cockpit rig, which can accommodate the wheel, foot pedals, shifter, screens, and other sim accessories.
So with that in mind, here are the three different types of racing simulator seat setups and who should buy them:
Racing Style Seats + Wheel Stand
These gaming chairs are designed after classic racing car seats and come with wheel and pedal stands. The budget models usually have a collapsible design which makes them ideal for the casual racer. With affordable prices and a variety of options available, these are a great step up for beginners instead of using the coffee table or computer desk!
Buyers Checklist
An Ergonomic Seat
High Weight Capacity
Fully Adjustable (Height, Tilt, Armrests, etc)
Strong Build, High-Quality Materials
Stylish Sleek Design
Comfortable For Long Periods of Use
Full Racing Cockpits or Rigs
A cockpit is a permanent setup and consists of a metal frame on which you can mount a seat, wheel, shifter, and other racing equipment. Used by professionals and serious sim racers, these complete set-ups fully mimic your car interior. Popular cockpits come with the seat included, however other options are more customizable and require you to purchase seats and accessories separately. With the premium build quality and engineered for expansion, these racing cockpits are not cheap and are targeted toward professional racers.
Buyers Checklist
Multi-Bar Wheel Support
Expansion for Monitors & Other Accessories
Robust Build Quality
Highly Adjustable
Affordable
Sleek Realistic Cockpit Design
Motion Cockpits
Now, this is where it gets interesting. For those without a budget and who want the best possible sim racing experience, cockpits can be bought with motion controlled systems. This means the seat literally moves based on what's happening in-game, taking the casual experience up to the extreme and making it much more immersive. It blurs the lines between reality and the game so you'll feel as if you're in a real car!
Buyers Checklist
Full Motion Including Tilt, Turn & Movement
Integrated Audio Surround Sound
All Features In A Regular Racing Cockpit
Hopefully, that should give you much better insight into the options available for us sim racers and help you choose your setup! The ultimate guide to the best racing simulator seats & cockpits in 2022.